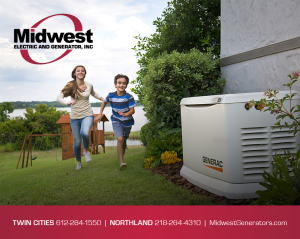 In the past weeks, we have been as busy as ever installing generator systems. During these difficult and uncertain times, reliable power has become even more important. This is the deal of the year, don't delay, activate your 10-YEAR WARRANTY TODAY!
Promotion Just Announced
An exclusive offer from Midwest, only for YOU!
There will never be a better time to buy. Purchase Your New Automatic Generator System Now Until April 22nd, 2020 and you and your family will receive an exclusive 10 Year Generator Warranty!
Take advantage of 18-Months Same as Cash, available until April 15th, 2020 or financing as low as 5.99% OAC. Easy online application, 
Click Here to Apply
INCLUDED FOR A LIMITED TIME: 
3% FINANCING CREDIT CARD FEE WAIVED
EXPEDITED INSTALLATIONS
BEST PRICING OF THE YEAR
Prepare For The Unexpected. Protect your home and family now with an automatic backup generator Now is the best time to buy your automatic standby generator. Generators purchased by April 22nd, 2020 will receive a full 10-year warranty (a $1,250 VALUE)*
Need a refreshed quote, not a problem. Just let us know!
Are you working from home? Your automatic generator system is likely deductible!
Our commitment to your safety during installation:
Midwest Electric & Generator will continue to monitor every technician's health status upon arriving to work, during work, after each job, and before leaving for the day.
Midwest Electric & Generator will contact each customer prior to arrival to confirm a healthy status to protect you as well as our technicians.
At no time will a customer or technician need to touch any screens or come within the 6-foot social boundary.
We will offer completely NO CONTACT INSTALLATIONS
Our priority is, and will always be, the peace-of-mind and safety of our customers and employees. It is important more than ever to protect your home and family. We believe that by implementing these initiatives, we can help to keep you, your family, and our employees, safe during this time of unpredictability and uncertainty.
Stay safe and thank you for the opportunity to earn your business, talk soon!
John Anderson 
President
612-284-1550
www.MidwestGenerators.com
* Generac Generators, 13kW-22kW, that includes installation. Other terms and conditions apply.
No job is too big or too small! Don't hesitate to protect your home, family, or business from an unexpected power outage or unreliable utilities.
You can expect exceptional customer service, value, and a life-long relationship when you trust the experts at Midwest Electric & Generator!